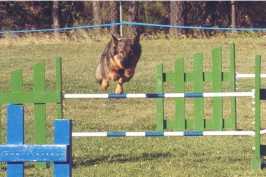 Cito and I discovered just how much fun agility can be. We also found out that the really
good handler/dog teams make it look a lot easier than it truly is. Cito's favorite obstacle of all
is the tunnel and sometimes he will go out of his way to run through it a few extra times.
He just doesn't understand why the course designers don't add a few more tunnels to their
plans. We aren't the fastest team on the course, or the most accurate; but we certainly
have a ton of fun.
Through the tire
and
over the teeter
Spokane, Washington
1999

"Ha ha look at me"
Idaho Falls 1999
| | | | | | | |
| --- | --- | --- | --- | --- | --- | --- |
| Trial Location | Date | Judge | Class | Score | Time | Placement |
| Missoula, MT | 6/26/99 | Doug Harley | Novice Standard | 95 | 54.00 | 4th |
| Idaho Falls, ID | 8/1/99 | Gayle George-Sackett | Novice standard | 95 | 50.00 | 3rd |
| Spokane, WA | 8/29/99 | Pat Gutiez | Novice Standard | 90 | 57.00 | 2nd |
| Spokane, WA | 8/29/99 | Pat Gutiez | Novice Jumpers | 99 | 48.00 | 3rd |
Off to a good start on the jumpers course

Completing the last jump for his first
qualifying run in Novice Jumpers
| | |
| --- | --- |
| Back to Cito's Story | Back to R`ioghail Shepherd's Home Page |
Some Graphics Courtesy of GRRRfix
Some graphics Courtesy of Celtic Art & Illumination
This page was last updated on 2/7/00
For questions or concerns about this web page
please contact the web master
©R`ioghail 1999-2001 All rights reserved